You Say Tomato...
Late summer is truly the most generous time of the year. Neighbors anonymously gift each other with the overrun from their gardens. Grocery bags full of summer squash show up mysteriously on doorsteps all over town. Countless co-workers bring the bounty of their gardens to work and give them to whomever will take them. Cucumbers and zucchini are the biggest, most common gifts, but I hold out for my absolute favorite garden treat - homegrown tomatoes!
You can almost be guaranteed that a tomato that came from your friend's yard has never seen refrigeration. This is the best possible scenario for a tomato. Cold temperatures not only mute the tomato flavor, but that also ruin the texture of an otherwise glorious end-of-summer treat. A tomato that has bounced around in a refrigerated truck on its voyage to a faraway grocery store has a mealy texture, altogether unappetizing when eaten raw. Tomatoes taste best when stored at room temperature, preferably the star of your fruit bowl in September. With all the different colors and shapes available, summer tomatoes are almost as easy on the eyes as they are on the tongue! I just need one look at the heirloom varieties displayed at the farmer's markets to be reminded that food can be art.
There are countless ways to enjoy a September tomato. A BLT springs to mind immediately, as well as a sliced tomato on a grilled cheese sandwich, or all by its lonesome, salted and peppered on toast with a smear of mayonnaise. These simple pleasures are worth waiting all year for - when tomatoes are at their flavor peak. Just because fresh tomatoes are available all year around, it doesn't mean you should buy them. Do yourself a favor and hold out for the really good tomatoes... the ones you can smell from a few feet away, like a ripe peach.
You can certainly enjoy tomatoes year-round -- most ways involve ripe summer tomatoes canned into some kind of sauce. When I was growing up, September in my mother's kitchen meant sweltering heat from the pressure canner, whistling away for what seemed like the whole month. The wonderful end result of all that perspiring was that we got to enjoy our garden tomatoes, full of flavor, all year long. While I don't approach canning with the same ardor as my mom, I still make small batches of tomato sauce to last me all winter. If preserving isn't your thing, there are plenty really high-quality canned tomatoes available at any store.
One of my favorite ways to stretch the tomato season as long as I possibly can is by making condiments that can go on a sandwich straightaway. Homemade ketchup is fun, but I get more way mileage out of chutney - a catchall term for sweet and sour sauce. Chutney is most often made with fruit (typically mango) and commonly seen at Indian restaurants, but there is no reason to limit your self to specific ethnic confines. I love chutney anywhere a little sweet and sour hit is appropriate. Think of foods that benefit from BBQ sauce and you will be on the right track. Chutney is a great counterpoint to sausages, roasted meats, and especially over chicken salad. It will save the day on your after-Thanksgiving-dinner turkey sandwich!
Tomato Ginger Chutney
makes about a pint
2# ripe tomatoes, any kind, size, or color that you can get
1/2 c cider vinegar
1/2 c sugar
1 cinnamon stick
2 cloves garlic, smashed
1/2 very small red onion or 1 shallot, minced
1 t kosher salt
pinch of red pepper flakes
zest and juice of a lime
1" piece of ginger, minced or microplaned
1. Wash and coarsely chop the tomatoes (no need to peel) and toss into a heavy bottomed saucepan
2. Add the vinegar, sugar, cinnamon, garlic, onion, salt, pepper, lime zest & juice, and the ginger, stir to combine
3. Cook the chutney over medium heat for about 20 minutes, stirring occasionally, until the tomato has broken down and all the ingredients have melted together into a fragrant, saucy goo
4. Let chutney cool, transfer to containers, and chill until use (Chutney will keep for up to 6 months in the fridge)
You can top just about any kind of meat or sandwich with a spoonful of warm chutney - no need to let it cool if you just can't wait! It's even good paired with hummus in a veggie sandwich. This (or any!) chutney also makes an awesome party appetizer when spread over a fat layer of cream cheese (or Neufchatel) in a pie dish. Spread 1 cup of chutney over an 8 ounce layer of softened cream cheese - that's it! Bring your dish to a party, pop it, uncovered, in an oven (ideally 325-350 degrees), and 20 minutes later, serve it as a hot dip with your favorite cracker, flatbread, or crudits. I love dishes like this -- proof positive that cooking does not have to be complicated to be delicious.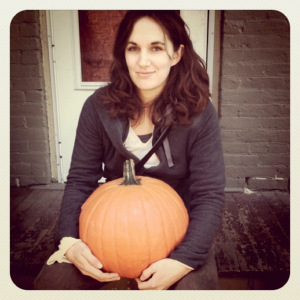 Jackie Frost lives in downtown Buffalo with her husband, where they cook dinner from scratch almost every night. Lebanese, German, Korean... nothing is off limits at dinnertime! She grew up in Michigan with a big garden, a father who loved to cook, and a mother who loved to can and bake. Her current favorite foods are blackberries and fennel (not necessarily together!) She is a chef at a private foodservice company in Buffalo.
comments powered by Disqus