About Us
---
Healthy Options
In 2004, the Independent Health Foundation created the Healthy Options Buffalo program to help our community make informed decisions about healthy eating, and as a result, help address the high rates of stroke and heart disease prevalent in Western New York. Through this program, the Foundation works with area restaurants to offer heart-healthy food options that are considered lower in fat, saturated fat, cholesterol, and sodium. To help make it easier for the community to find healthier options while dining out, we have compiled a list of more than 170 local restaurants and food trucks that participate in the program. You can find a full list of participating restaurants, as well as the items they offer with nutritional facts, in our restaurant guide.
The Healthy Options program also offers cooking classes to demonstrate techniques for healthy cooking at home. We offer a Healthy Options cooking class which is taught by local restaurant chefs to demonstrate a healthy meal, and Back to Basics cooking classes taught by D'Avolio's staff to show basic skills/recipes for healthy meals (ex. sauces, soups, etc.) Our page also features healthy recipes and dining tips to show that you can make healthy choices in any dining situation.
Healthy Options is always growing through community partnerships. Visit the partnerships tab to see our current partners and how you can become one!
If you have any questions, or suggestions for other items you would like to find on our site, please contact us here.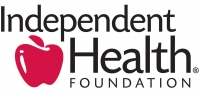 Independent Health Foundation
A healthy community benefits everyone who lives in it. The Independent Health Foundation focuses on providing the Western New York community with the support and resources people can use to lead healthy lifestyles - today and in the future.
Through our programs, seminars and events, our goal is to:
-Promote positive healthy changes and behaviors in our community.
-Provide health education and wellness screenings to underserved populations.
-Empower individuals to become educated health care consumers.
-Collaborate with local schools, community groups and businesses.