Healthy Hydration
Summer is so great! We've been spoiled so far this year with some very comfortable temperatures and a city that's bursting with exciting events. Of course all this activity and constant sweating can lead to dehydration pretty quickly if you don't take steps to replenish lost fluids. Obviously, drinking water is a great way to stay hydrated, but it's not the only way. Other fluids like unsweetened or herbal teas, seltzer, milk, and even coffee can be counted toward your daily fluid goal.

The last few weeks I've been obsessed with unsweetened mint teas. Try it iced with a few slices of cucumber, lime, or strawberries and you won't miss the sugar! Right now I can't get enough Tazo Zen iced with a slice of lemon; but be warned, it does contain caffeine. I'm also a huge fan of Celestial Seasonings' Sleepytime Herbal Tea over ice, which is similarly refreshing and light without the caffeine.

If you are looking for something a little sweeter, a simple agua fresca (Spanish for fresh water) might be just right. I put about 4 cups of fruit in the blender with 1/4 cup of water, and the juice of 1 lime (feel free to throw some herbs or a variety of fruits to make a more complex flavor). Blend it until smooth then strain into a pitcher. Add about 1 more cup of water and some ice- that's it! I almost always use strawberries or watermelon, but you can get creative. Raspberry and mint? Sounds delicious! Pineapple and arugula? Sure, why not?!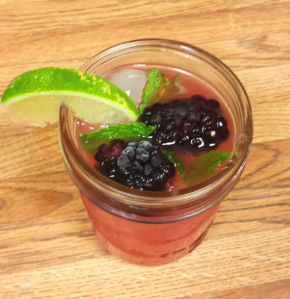 Snacking on water packed foods in place of dry foods can also help stave off thirst and dehydration in the hot summer months. Fresh fruits and vegetables like cucumber, melon, crispy lettuce and celery, summer squashes, and berries are all packed with water. Low-sugar popsicles (especially homemade) and icy snacks are also great choices. Replace your usual crackers with crunchy cucumber slices and you'll get some extra fluids plus an extra serving of veggies- double win! If you're feeling adventurous, see the recipe for sweet and salty celery popsicles from food blogger extraordinaire Jerry James Stone below.

Sweet and Salty Celery Popsicles
By Jerry James Stone

Ingredients
1 1/2 Cups celery juice (10 ribs)
1 1/2 Cups simple syrup
10 fresh basil leaves
3/4 Teaspoon Salt

Equipment: Classic Popsicle Mold, Wooden Popsicle Sticks (50-Count)

1. First thing is to make the simple syrup. We want 1 1/2 cup of it so we will need 1 1/8 cup both sugar and water. Bring that to a boil over a medium-high heat. Once it boils, remove it from the heat and add the 10 fresh basil leaves. Fresh basil should be added at the end of the cooking process. Prolonged exposure to heat will cause the herb's volatile oils to dissipate.
NOTE: Honestly, basil simple syrup can be great in lemonade or over ice cream, the possibilities are endless. So you might want to make more than just 1 1/2 cup. The general rule for simple syrup is that you need 75% of both sugar and water for whatever measurement you want. For example, if you want 1 cup of simple syrup, you'll need about 3/4 cup of both sugar and water to make that. It all scales from there.
2. Once the simple syrup has cooled to room temperature, strain out the basil leaves and transfer it to the refrigerator to cool.
3. Now let's juice the celery. What is it about celery juice. It smells so fresh and revitalizing, right?
Fun Fact: Most refer to a single piece of celery as a stalk, but the appropriate culinary term is actually rib. Stalk refers to a bunch of celery, also known as a head.
4. In a large measuring cup, add 1 1/2 cup of the celery juice, 1 1/2 cup of the basil simple syrup and 3/4 teaspoon of salt. Mix well. You want to make sure all of the salt is dissolved before freezing.
5. Divide the mix amongst the popsicle molds and then add the popsicle sticks.
6. Freeze for at least 7 to 10 hours as you want these pops to be rock hard.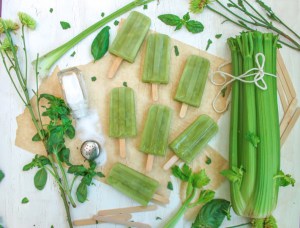 If you're going to be out in the heat for an extended amount of time, or you plan on breaking a sweat, don't forget to replace your electrolytes too. Resist the urge to reach for a sports drink. Eating plenty of fresh fruits and vegetables (especially bananas, dark leafy greens, melons, peppers, and cabbage) can help you balance your losses naturally. With so many great whole-food options to replace electrolytes, there's no need resort to sugary sports drinks. I personally turn to homemade pickles on very hot and sweaty days.

Enjoy the rest of your summer, and remember to stay healthy and hydrated!

Katie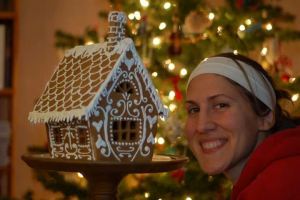 Katie Schaeffer is a graduate student at D'Youville College, completing her master's thesis is dietetics, focusing on improving urban food environments. She has a background in environmental science, agriculture and nutrition. A 15 year vegetarian, Katie advocates eating a mostly local, plant based diet to improve health and the environment. She is a member of the Academy of Nutrition and Dietetics, the Western New York Dietetics Association, and the Dietitians in Integrative and Functional Medicine practice group. In her spare time, she enjoys cooking meals for friends and family, singing with the Buffalo Choral Arts Society, and making her own clothes. She loves a good road trip and experiencing new places and new foods. Katie lives in Buffalo with her husband Hill and their dog Brody. Her favorite food is tofu. Not really. It's actually coconut cake.
comments powered by Disqus