Bunny Food
Easter was a really big deal when I was growing up. I always had to wear a fancy, frilly dress -- I hated that part -- but to make up for it, there was a huge table laden with goodies to consume in the midst of family and conversation. Even though I was relegated to the kids' table until my late teens, I still had unlimited access to all the holiday treats - deviled eggs were a particular favorite of mine. In my family, Easter meant egg hunts on Grandma's farm and hoarding as many chocolate bunnies as I could manage.
Oh how times change! I haven't received an Easter basket overflowing with sweets in many years, but my sweet tooth continues to rear its head at Easter time. I still love those deviled eggs and devour more than my share of ham on Easter Sunday, but nevertheless, I feel compelled to end the meal with something sweet. I know I am not alone in this regard. Back in the days of the kids' table, the options for dessert (aside from chocolate filled eggs!) were green gelatin salad with marshmallows or carrot cake. I always chose the latter, complete with the best part - its thick blanket of velvety cream cheese. Carrots may be bunny food, but carrot cakes always trumps chocolate rabbits in my book.
There is a lot of truly awful carrot cake out there - often too sickly sweet or overly spiced. I'll pass on those store-bought versions. Carrot cake is a thing of beauty when done right. But is there a place for carrot cake in a healthy diet? I was determined to find out a way to make that happen this Easter. My solution was to squeeze all the delicious flavor of carrot cake into a perfect few compact bites. By combining a healthy oatmeal cookie I have been working on with my idea of dream carrot cake, I think I found an answer.
Eating a big, fat, glorious slice of carrot cake is a commitment - to both the delirious sugar rush that follows and the tummy ache I will inevitably get despite my attempts, like most healthy adults, to cut back on my sugar consumption. A carrot cake cookie is the perfect solution in my mind because it forces me to be mindful the hardest part of holiday (over)eating - portion control. What I present to you is a cookie that is supremely satisfying so that just one is enough. This one cookie won't completely throw off your healthy eating goals, but it will satiate the dessert desire, at least on this particular Sunday.
I made some swaps to lighten the caloric load of the traditional oatmeal cookie. First and foremost, I replaced half of the butter with applesauce. The added bulk and moisture helps keep the cookies wonderfully tender. By adding naturally sweet grated carrots, raisins, and coconut, I was able to scale back on the sugar typically used as well. Coconut has an inherently sweet aroma that tricks the mind into thinking foods are sweeter than they actually are - a real boon when making and baking healthier treast! I like using whole wheat pastry flour (available in most grocery stores in the natural section) in baking for the nutritional benefit of whole wheat without compromising that beautiful fluffiness typically associated exclusively with white flour.
What would carrot cake be without the cream cheese frosting? Just a sad, pale version of itself, I'm sad to say. The cream cheese in this recipe, however, is a drizzle, rather than a thick layer, to add the tang of the cream cheese without overwhelming the carrot flavor. It pushes the cookie just over the top - a holiday worthy dessert.
Carrot Cake Oatmeal Cookies
Makes about 3 dozen
1 stick butter, melted
1 cup brown sugar (or evaporated cane juice, sucanat, or any natural sugar you like)
1/2 cup unsweetened applesauce
2 eggs
1 Tbsp vanilla
3 cups rolled oats
1/2 cups raisins
1/2 cups shredded coconut
2 cups grated carrots
2 cups whole wheat pastry flour (or white flour)
1 tsp baking soda
1/2 tsp salt
Cream the butter and sugar until smooth
Beat in the applesauce, eggs, vanilla, oats, raisins, coconut, and carrots
Beat in the dry ingredients until no streaks of flour remain
Scoop cookies onto greased cookie sheet and squash them down evenly
Bake cookies at 350 degrees for 10-12 minutes
When cookies are cool, drizzle them with cream cheese icing (recipe below)
Cream Cheese Icing
4 oz cream cheese, softened
1 Tbsp honey
splash of vanilla
Beat cream cheese, honey, and vanilla until smooth
Transfer icing to a Ziploc bag, snip a hole in the corner, and drizzle on cookies
When I was handing out taste tests this cookie, my co-workers immediately clamored for the recipe. After I admitted to them that the cookies were a healthy version, they were shocked at first, then proceeded to demand the recipe anyway. That, in my mind, is a healthy dessert success!
Happy Easter and happy eating!
Jackie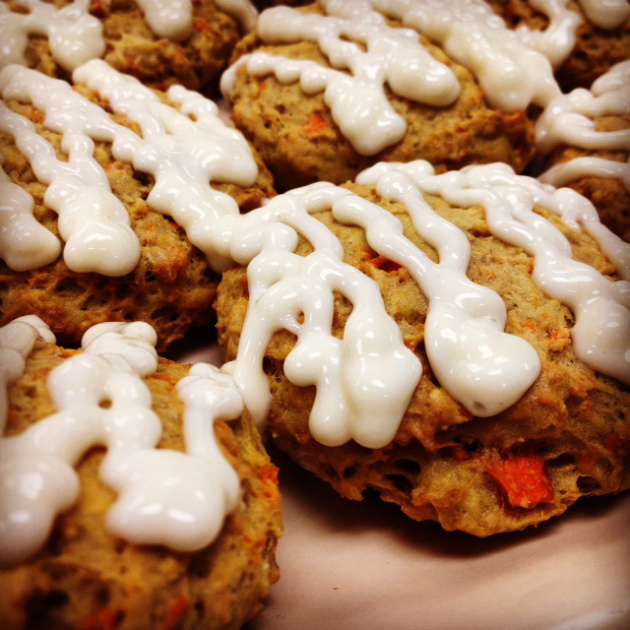 comments powered by Disqus