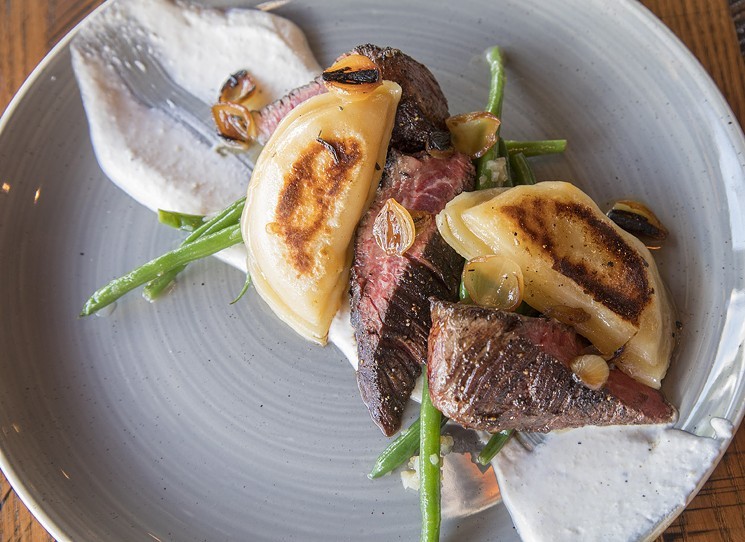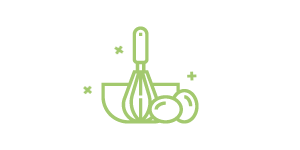 15 minutes
Prep Time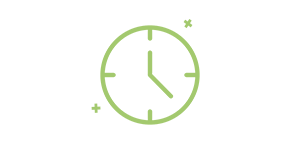 40 minutes
Cook Time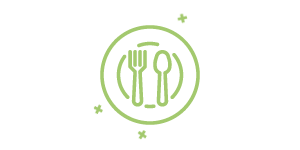 40
Number of Servings
What to do:
Mix all marinade ingredients together…place steak in pan and pour marinade over steak
Let marinate anywhere from 4-24 hours in refrigerator
Heat grill or grill pan on high (get as hot as possible)
Sear steak on both sides. Turning once per side and only flipping once
** You want to get a good sear on both sides à the sugar from the marinade will help with this greatly**
Time steak is on the grill to achieve medium rare à
Side one 7-9 minutes. Turn half rotation after 3.5-4 minutes. Flip
Side two 6-8 minutes. Turn half rotation after 3-4 minutes
Take off grill and let rest on cutting board for 10 minutes covered with a piece of foil do not wrap (just loosely cover with foil
Sauté pierogi in olive oil until golden brown and heated through
Approximately 3 minutes on a side on medium heat in sauté pan
Plating:
Place 2oz. of arugula down in center of plate
Place one Ru's Goat Cheese Pierogi on top of arugula
Place 2 oz. of flank steak on top of pierogi and serve
Marinated Flank Steak with Goat Cheese Pierogi
By: Andy Ru
Try this deliciously paired savory flank steak and goat cheese pierogis for a flavorful meal just under 300 calories!
What you will need:
5 lbs. flank steak, trimmed
34 oz. arugula
17 Ru's Goat Cheese Pierogi
1 cup soy sauce, reduced sodium
1 cup white vinegar
1 cup sugar
½ cup Worcestershire sauce
1 Tbsp. each
o Sugar
o Garlic powder
o Oregano
o Thyme
o Crushed Red Pepper flakes
o Sesame seeds