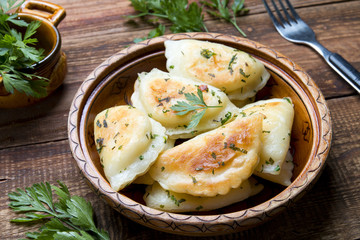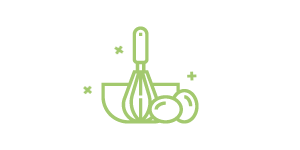 20 minutes
Prep Time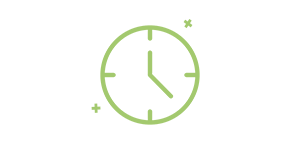 30 minutes
Cook Time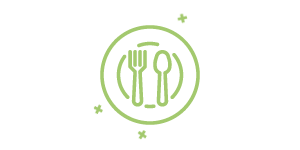 40
Number of Servings
What to do:
Tzatziki Sauce
Combine 1 ½ cup sour cream, 32 oz. Greek yogurt, ½ cucumbers, finely diced (seeded first), ¾ oz. fresh dill chopped, ¼ cup dry dill, salt, pepper, garlic powder. Whish until all ingredients are combined. Refrigerate until use
Tomato Salad
3 ½ cucumbers, seeded and small diced
Finely dice one red onion, 2 pints tomatoes, and slice olives
Whisk together olive oil, white whine vinegar, balsamic vinaigrette, oregano, salt, pepper, red pepper, and garlic powder. Refrigerate until needed to marinate the chicken
Chicken
Cut chicken into strips
Marinate the chicken with the dressing
Grill on both sides, then bake for 25 minutes at 350° covered. It is then ready for service
Pierogis
Sauté pierogis in olive oil in a skillet
Plating
Chopped romaine, pierogi, tomato/Kalamata olive salad, tzatziki sauce, crumbled feta and fresh dill as a garnish
Chicken Souvlaki & Ru's Cheddar Potato Pierogi
By: Andy Ruszczyk
These pierogis will leave you feeling satisfied stuffed with delicious marinated chicken!
What you will need:
10 lbs. boneless skinless chicken thigh meat
1 ½ cup sour cream
32 oz. nonfat Greek yogurt
5 English Cucumbers
¾ oz. fresh dill
¼ cup dry dill
¼ cup pepper
¼ cup garlic powder
1/8 cup salt
1 red onion
2 pints grape tomatoes
2 cups Kalamata olives
1 cup olive oil
½ cup white wine vinegar
1/8 cup oregano
1/8 cup crushed red pepper
1/8 cup sugar
1 ¾ lbs. feta cheese, low fat
3 romaine hearts