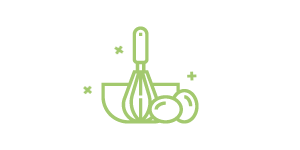 30
Prep Time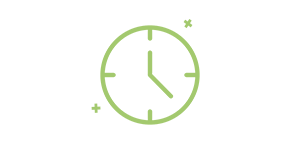 50
Cook Time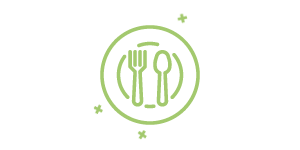 6
Number of Servings
What to do:
1) In your food processor, process the parsley, celery, onion and garlic cloves together until they are well ground. (This will get the aromatics small enough to cook as fast as the chicken does, and also draws out moisture)
2) Place the ground chicken in a large mixing bowl with the worcestershire, egg, bread crumbs and processed vegetables. Season with a heavy pinch of salt and pepper.
3) Mix together by hand, thoroughly. Divide the mixture into 3 portions and form into a burger patty.
4) Swirl 2T evoo into your pre-heated cast iron pan. Place your burger into the pan ( A grease screen is a good option here). Leave the burger untouched for about 2 minutes.
5) Check the bottom of the burger by lifting the edge (Much like you would a pancake) to look for a nice brown crust, if it is browned, flip the burger. Cook the other side the same way.
6) Once both sides of the burgers are browned, remove from pan. They will not be fully cooked and that is to be expected. Place the burgers on the foil lined sheet pan and top equally with the blue cheese. Insert probe thermometer and set for 160*. If you do not have a probe that is fine, just put the burgers in the oven for about 15 minutes to finish cooking and to brown the cheese.
7) While you are waiting for the burgers to finish in the oven, grab your small bowl and whisk together the 2T of Mayo and 2T of Hot Sauce. Toast the rolls, and spread the hot sauce mixture onto both sides of the rolls. Garnish with sliced tomato and shredded lettuce. Complete the sandwich with the burger when they are finished cooking.
Roasted Carrots
*Cut Carrots into relatively equal sized sticks, toss with evoo, granulated garlic, s&p. Place on the foil lined sheet pan and put in the oven to roast. Do this before you make the burgers and they will finish cooking about the time your burgers are cooked
Buffalo Chicken Burgers
By: Michael Murray
What you will need:
1 pound Ground Chicken
1 Egg
1/8 Cup Wheat Bread Crumbs
¼ Cup Minced Onion
2 Garlic Clove
1/4 Cup Minced Celery
2 Tbsp. Fresh Parsley or Cilantro
1 tsp. Worcestershire
2 Tbsp. Extra Virgin Olive Oil
6 ounces Blue Cheee
1 tomato
1 1/2 cup shredded lettuce
2 Tbsp. hot sauce
2 Tbsp. plain greek yogurt
1 pound carrots peeled