A Balanced Salad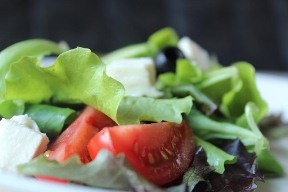 A salad can be one of the healthiest choices you make today, unless of course you drown it in ranch dressing or cheese... or maybe both. There are four necessary ingredients to make a perfect salad that will satisfy most of your daily nutritional needs: greens, grains, proteins, and vegetables or fruits.
It's relatively obvious that greens are needed to make a good salad but you don't have to stick to tasteless lettuce all the time. Try switching it up, and instead of the usual iceberg or romaine, try spinach or kale. Spinach and kale are high in fiber and calcium so you'll get extra benefits aside from eating your everyday greens. Kale actually has more vitamin c than an orange, and has omega-3 fatty acids. Add fresh herbs like parsley or cilantro for extra flavor.
Whole Grains are going to satisfy hunger and prevent the "I'm hungry, but just ate" feeling you get five seconds after you finish your lunch. Grains that compliment a salad well are wild rice, and wheat berries. The best grains are also high in protein like quinoa. For added protein and taste add chicken or turkey, salmon or tuna. Meatless options including chickpeas, roasted tofu, or beans are just as wholesome.
In order to finish off your balanced salad, add whatever vegetables or fruits your heart desires. Broccoli florets with olive oil and a dash of salt and pepper can add some flavor to your salad plus vitamin C and fiber. Add avocado for extra vitamins that help the body fight against free radicals that can lead to illness and diseases.
Your salad doesn't have to be your most dreadful meal of the day. With these four main ingredients, you can fulfil a good portion of your daily needs without neglecting taste. There's still room for bonus ingredients too like pita chips or crushed tortilla chips for extra crunch and even feta or bleu cheese to add a variety of taste to your salad. Top it off with a tablespoon or two of your favorite dressing, but remember to always keep portions in mind and be creative!
Shelby
Shelby is a senior at SUNY Potsdam, currently working to complete her undergraduate degree in Psychology with minor studies in Community Health as well as Therapeutic Recreation. As the newest intern for Potsdam Auxiliary and College Education Services, Inc. (PACES) she will be working collaboratively with the Independent Health Foundation to bring nutritional information and healthy insight to students on her campus.
<![if !supportAnnotations]>
<![if !supportAnnotations]>
<![endif]>
comments powered by Disqus