1, 2, 3... Breakfast on the Go!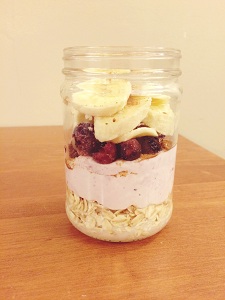 17 credit hours, two jobs, and evenings full of extra curricular activities — this is what I have on my plate as a last semester senior. So, I take any opportunity I have to prep meals in advance, especially breakfast.
Prepping meals is fun and, in the long run, saves lots of precious time. I try to prep as many meals as I can during the week so I can grab and go. It keeps me on track and prevents those extra few pounds from creeping on.
We all know that breakfast is the most important meal of the day because it jump starts your metabolism and gives you the energy you need to hit the ground running. That's why I make a conscious effort to prep this meal in advance.
One of my favorite breakfasts on the go is overnight oats. It's quick, easy, and super delicious. I use a recycled, glass peanut butter jar to store my overnight oats because it allows the ingredients to absorb together and makes it easier for mixing in the morning, but any container would work perfectly.
This delicious recipe was shared by one of my closest friends, Ashley. She has always been diligent about preparing her oats every night and loves adding new and healthy favorites to her mix like granola, crumbled Clif Bars, and even a couple of dark chocolate chips. Of course, all these extras are added in moderation. After much experimenting, this recipe below is my favorite combination, and now, I am going to share it with you!
Overnight Oats Recipe
(1/2) cup of old fashioned oats
(2) tbsp. of almond milk — just enough to make the oats a little bit moist
(1/2) cup of greek yogurt — I usually use vanilla because it's my favorite!
(1/4) cup of mixed berries or any fruit you have in your fridge — that's the beauty of this recipe!
Add a pinch of cinnamon on top for some sweet flavor. Also, I love adding a sprinkle of granola for that extra crunch. Then, just stick it in the refrigerator and you are all set for breakfast in the morning. Sometimes I stick my oats in the microwave for a couple of seconds just to warm them up but that's totally up to you.
So, go ahead and try some delicious overnight oats, and be sure to share your favorite overnight oats concoctions with us!!!
Happy Healthy Eating!
Lauren
Lauren currently attends the State University of New York at Fredonia. She is pursuing a degree in Public Relations and minor in Leadership Studies, and will be graduating in May. Since her senior year of high school, Lauren has interned with the Independent Health Foundation. Her role within the foundation has allowed her to make an impact in the lives of others and help create a healthier community throughout Western New York. After graduation, Lauren hopes to pursue a communication-orientated career with The Walt Disney Company. In spring 2014, she interned with the company and fell more in love with Disney and the company's mission. She hopes to be returning to the happiest place on earth and living in the sunshine state very soon!! For now, you can catch Lauren on her lifestyle blog, "Perfectly Chic," at lorlowskiperfectlychicdotcom.wordpress.com.
comments powered by Disqus