Don't Fall into the Fish Fry Trap
Even if you are not religious or you do not abstain from eating meat on Friday's during Lent, I am sure you have all heard of "fish fry Friday's". It is a reason to get together with friends and family and just get out of the house for a night. Many restaurants will have a fish fry special every Friday night because they know most people going out to dinner on a Friday during Lent are looking to indulge in a nice and greasy fish fry. Western New York is one of the most popular regions for fish fries and has become a tradition for many.
"Fish and chips" is the typical name of the meal you order when going out for a fish fry. The fish typically used is either cod or haddock, which is dipped in batter and fried. The chips are sliced potatoes that are also fried, similar to French fries but larger. So you have an entire plate filled with fried food, which is okay to indulge in once in a while, but if you are going out for a fish fry every Friday during Lent, the extra calories and fat will definitely add up.
Applebee's and Bonefish Grill are two restaurants who serve fish and chips and have the nutrition facts for all of their menu items online. Listed below are examples of the nutrition facts for the typical fish and chips meal along with healthier fish/seafood options to compare.
Applebee's had a few varieties of fish and chips that ranged from:
Hand-Battered Fish & Chips
1490 Calories, 100g Fat, 17g Saturated Fat, 1920mg Sodium
New England Fish & Chips
1970 Calories, 136g Fat, 24g Saturated Fat, 4180mg Sodium
Applebee's healthier options of fish/seafood:
Blackened Tilapia
450 Calories, 17g Fat, 5g Saturated Fat, 1640mg Sodium
Shrimp & Broccoli Cavatappi
470 Calories, 22g Fat, 13g Saturated Fat, 1980mg Sodium
Savory Cedar Salmon
520 Calories, 28g Fat, 8g Saturated Fat, 1560mg Sodium
Bonefish Grill's Fish Fry:
Fish and Chips (Tilapia)
857 Calories, 59g Fat, 10g Saturated Fat, 2501mg Sodium
Fish and Chips (Cod)
1031 Calories, 48g Fat, 8g Saturated Fat, 3631mg Sodium
Bonefish Grill's healthier fish/seafood options:
Atlantic Salmon (Regular Size) served with fresh seasonal vegetable & choice of 1 side
490 Calories, 31g Fat, 6g Saturated Fat, 223mg sodium
Tilapia served with fresh seasonal vegetable & choice of 1 side
334 Calories, 13g Fat, 4g Saturated Fat, 270mg Sodium
Sea Scallops & Shrimp
191 Calories, 5g Fat, 0g Saturated Fat, 707mg Sodium
Just to give you an idea of what all of those numbers mean, I compared them to a 2,000 calorie diet and the recommended levels of intake for each nutrient per day, like nutrition fact labels do when you buy an item from the grocery store.
2000 Calories, <65g Fat, <20g Saturated Fat, 2400mg Sodium
**Note that these daily values are not for everyone and do not fit everyone's needs
Comparing Applebee's and Bonefish Grill's menu items to the average 2,000 calorie diet even surprised me. Applebee's fish and chips provides nearly your entire calorie intake for the day and the amount of fat in the meal is double the amount you should be eating all day. Bonefish Grill's fish fry doesn't have as many calories as Applebee's fish fry, but it still provides about half of the calories you should be eating in one day, at one meal. The fat in the meal also provides close to the daily recommended intake, and the sodium far exceeds how much you should be consuming in your diet each day.
However, if you look at the healthier options of fish/seafood offered at the restaurants listed above you will notice that each meal has at least half the calories, fat, and sodium compared to the fish fry's that are offered.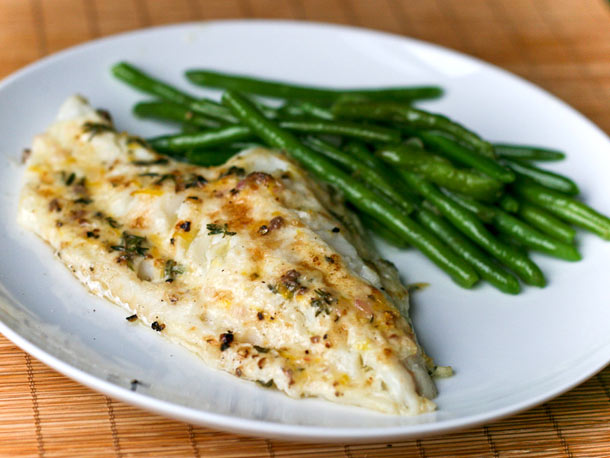 Now don't get me wrong, everyone loves a good fish fry once in a while, but instead of ordering one every Friday during Lent try ordering one of the healthier options once in a while instead. And even if you're not going to Applebee's or Bonefish Grill where I gave you a few healthy options to choose from, you can still pick healthy options at other restaurants. Just look for any fish/seafood that is baked, grilled, or broiled instead of fried, and if it doesn't specify on the menu, ask!
Happy Eating!
Jessie
Jessie is currently in her final semester of school at D'Youville College, on track to complete her Masters of Science in Dietetics this May. Food became her passion once she realized the great impact it has on a person's body. Growing up she was intensely active with various sports, and still loves working out to this day. Jessie aspires to help people live healthier lives through her knowledge of nutrition by working in the community, concentrating on the field of sports nutrition or outpatient care. In Jessie's spare time you'll find her at the gym, running outside, grocery shopping at Wegman's and perfecting healthy new recipes for friends and family to try.
comments powered by Disqus