Thai Me Up
About:
Introducing Thai Me Up Food Truck, the Authentic Thai Food you could find on the streets...
We are on the streets cooking up Thai gourmet food for Western New York area to eat on the go. Our simple and healthy Authentic Thai style dishes are served in take away boxes.

Our main Thai food ingredients are from Thailand to make authentic Thai food taste. We use only clean and fresh choice meats, organic veggies, and the highest quality ingredients available from farms so the produce is super fresh and super tasty.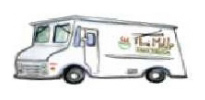 comments powered by Disqus