Cammarata's Restaurant

View Website
$$
About:
Owned and operated by Bob Cammarata, built from the ground up by the Cammarata family and a few friends, Cammarata's Restaurant in Lockport, NY opened its door October 10, 1975.

As it was then and still is today, you will always find a member of the family on premises. Everyone is welcomed as if you were invited into our home; our goal from the beginning was to give our patrons the best dining experience - great food, professional service in a relaxed and friendly atmosphere.

A great combination of "old" world and "new" world cuisines; our menu includes fine USDA choice steaks, prime rib, chicken, veal & pork. Along with your favorite Italian entreés, a wide variety of seafood is available and cooked to perfection. We're also proud to offer a fine selection of the Niagara Wine Trail's best wines.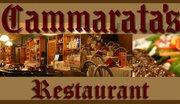 Notes:

*Indicates sodium content [greater than/exceeding] the Healthy Options guidelines. The American Heart Association recommends choosing foodservice meals that contain no more than 900mg of sodium and a daily sodium intake of 1,500mg or less
comments powered by Disqus