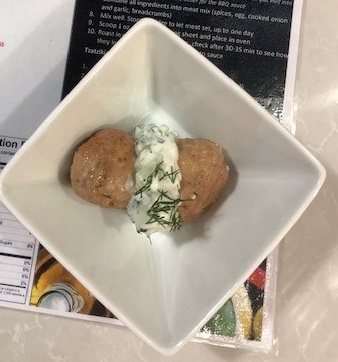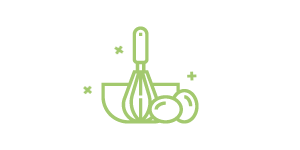 15
Prep Time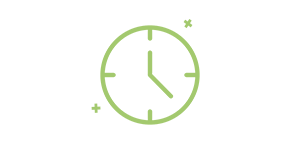 50
Cook Time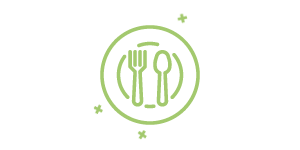 4-5
Number of Servings
What to do:
Meatballs
Preheat oven to 375°F.
Crack 2 large eggs into a bowl.
Add ground turkey to a separate large mixing bowl.
Mince onion and garlic.
Oil baking sheet.
Sauté onions and garlic in stock pot over medium heat in olive oil (until cooked ~3-5 minutes).
Note: You can sauté all the garlic and onion in one pot, then put half into the meatball mix and leave the other for the sauce.
Combine all ingredients into meat mix (spices, egg, cooked onion and garlic, breadcrumbs).
Mix well. Store in fridge to let meat set, up to one day.
Scoop 1 oz. balls onto baking sheet and place in oven.
Roast in oven for 40-45 minutes, check after 30-35 min to see how they look, take out of oven and add to sauce.
Tzatziki
Combine 1 ½ cup sour cream, 32 oz. Greek yogurt, ½.
cucumbers, finely diced (seeded first), ¾ oz. fresh dill chopped, ¼ cup dry dill, salt, pepper, garlic powder.
Whisk until all ingredients are combined.
Meatballs will be topped with tzatziki sauce and crumbled feta and minced fresh dill.
Gyro Style Meatball
By: Andy Ruszczyk
These Gyro style meatballs are full of simple flavors and ingredients found in Greek cuisine and are a very satisfying low-carb dinner!
What you will need:
Meatballs
2 lbs. ground turkey
2 large eggs
1 cup breadcrumbs
1 tsp salt
½ tsp black pepper
3 cloves garlic
1 tbsp oregano
1 tbsp dill
¼ cup diced onion
1 oz olive oil
¼ cup Greek Dressing

1 cup olive oil
½ cup white vinegar
½ cup balsamic vinegar
1/8 cup dried oregano
Crushed red pepper
1/8 cup sugar
Greek Dressing (recipe makes 17 servings)
1 ½ cup sour cream
32 oz yogurt
½ cucumber
¾ oz fresh dill weed
1 tbsp dried dillweed
1 tbsp black pepper
1 tbsp garlic powder
Salt to taste